Povratek na #k24 v smilsu teka in borbe po koroških hribih. Da, povem odkrito sam ne bi odšel na dirko, ker sem že obdelal te hribe, vendar so me prijatelji "prisilili" v to, da se podam na fajt. Fajt 100km in fajt s približno 5000m višine. 
Teden prej sva se z Matejo zmenila da s Šiškarjem, skupaj "odjadramo" z njegovo potujočo ladjo na Koroško h Karolini in Senadu. 
Priprave so bile tudi tokrat zelo pomembne. Saj 100 km tek ni kar nekaj, kar bi lahko naredil vsak, vsak ki se mu zdi, da ima malo preveč časa. Na 100 km traso se prijaviti, ker je moderno in ker je veliko heštegov pod rubriko #ultra in ker je ultra nekaj posebno. Popolna bedarija se je dokazovati nekomu, da lahko kaj takega preteče oziroma bodimo odkriti prehodi v nekem času. Vse kakor je za kaj takega treba delati in 20 kilometrov na teden za takšno razdaljo ni nič.
Gremo počasi nazaj. V svojem gradu, si lepo pripravim robo. K svojima #top znamkama dodam še eno #2TomsWorldWide, katera pomaga zlasti pri tem, da te med borbo ne riba med kotleti, podpazduho ali pa nekje vmes. V pomoč mi je bil tudi tokrat prašek oziroma nekakšen puder, kateri prepričuje nastajanje žuljev. 
Samo in #TopAtlet sta zopet poskrbela za fajn zalogo novih gelov Sponsor in energijskih bonbonov Sponser. Ker sem se malo nasitil sadnih okusov sem dodal v svoje bidone nekaj #mint okusa. Vse lepo pripravil, tako za tranzicijo in akcijo takoj po štartu. V nahrbtnik za tranzicijo sem si spravil še šilt kapo in #Invictus. 
Hitro je napočil čas in na Suunto9 sem imel že traso in na sebi Salomon opremo. Tokrat sem oblekel
S / LAB NSO TEE uporablja tehnologijo mineralnih oksidov naslednje generacije. NSO ACTIVE je edinstvena koncentracija oksidnih mineralnih delcev v obliže, ki intenzivneje odsevajo telesno energijo. Obliži se nahajajo v sprožilnih točkah, izboljšujejo mišični tonus, okrevanje in ravnotežje.
Ter obutev za Trail Salomon Slab Ultra II 
Ultra 2, ki je bil razvit v sodelovanju s francoskim ultra & gorskim tekačem Francoisom D'haenom, predstavlja njegovo fizično in mentalno pripravo za ultra dirke. Združuje udobje na dolge razdalje, natančno prileganje in  odličen oprijem z grafično obdelavo, ki izraža različne nivoje ultra maratona. 
Dokončno sem bil pa pripravljen, ko sem prijel vrečko presenečenja #k24 in si za hlače zabasal številko 180.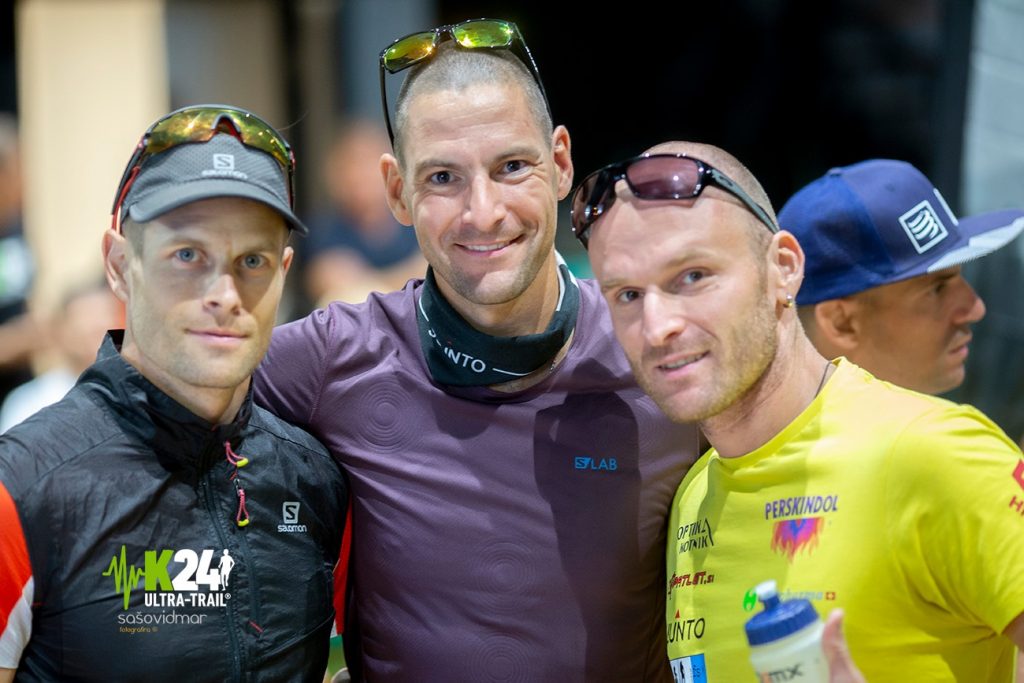 Sedaj je bilo samo še nekaj ur do štarta, ki je bil ob 22h. Nekaj časa smo lahko imeli še "privat" zabavo a kmalu je bilo vzdušje napeto in vsi smo bili pripravljeni. Na štartu sem bi z Matejo, Karolino, Petrom, Senadom in seveda tudi z elitnimi slovenskimi ulltra gorskimi tekači kot so Tilen, Marjan, Miha, Andi ter seveda najhitrejši DHL tekač Dalibor. 
Ker se vseh kilometrov ne spomnim natančno in še sedaj ne vem kateri je drugi in kateri je bil peti hribček, bom tokrat napisal svoj filing, kaj sem občutil na vseh 100km. 100 pa zato, ker sem dodal še dobrih 100 metrov do vozila. 100 je 100 in pika. 
BAM! Štart, poženemo se. Ostanem miren, zbran in s svojimi mislimi naprej. Ostanem zadaj. Blizu Mateje. Počasi grem, govorim si naj ne štartam prehitro. 100 km je dolga in nadomestiti se vse da! Vse! Nekaj tekaškega asfalta ter hriba. Začetni kilometri v hrib so bili podobni kot na Mayrhofnu lepo počasi strmo v hrib kot račke. To mi ni bilo všeč, ampak me je morda rešilo pred hitrim/prehitrim štartom. Kmalu smo zavili v rudnik in prav pasalo je, da nas je ohladilo na osem stopinj.
Bučno navijanje navijačev nas je popeljalo v noč ultra sveta.
Počasi sem dohiteval znane obraze in jim namenil pozdrav ali dva. Morda stavek. Šparal sem z energijo. Ura in mp3 pa nista smela imeti bele stavke. Morala sta dobro oziroma odlično opravljati svoje delo. Nisem želel kaj veliko gledati na uro a ko sem prvič pogledal je bilo za nami nekaj kilometrov in približno 960 višincev. Uff rekel sem si: " Dobro mi gre". Res, sem se počutil odlično. Vendar vedno me preseneča, da zelo močno švicam. Hlače in mikica popolnoma mokre in to sredi noč. Vmes se veliko ne spomnim – šlo je mimo… Spomnim se, da sem srečal Senada, Perota, Icija, Tomaža in še nekatere znane…
Z nekaterimi smo se videvali večkrat, saj so bile postojanke tako zanimive in dobro obložene, da si se kar težko spravil od mize. Vendar, potrebno je bilo dalje. Tokrat sem tekmoval sam s seboj in vedno bil v skrbeh kdaj me bo kje in kaj zahaklalo ali stisnilo. Ker je bilo toplo in ker sem zgubljal veliko tekočine sem vsake toliko časa vzel Sponser Solne tabletke, katere so me čakale v dveh rumenih kinderjajčkih
Kmalu pridemo do Pece, kjer je najvišji vrh in vzamem kamen za Matejo (ona zame iz vseh vrhov). Pričakoval, sem da bo na vrhu Pece kaj ljudi ali nekaj posebnega, ker je najvišji vrh. No pa ni bilo nič. Zdelo se mi je, da sem hitro pišel do tranzicije in všeč mi je bil položen del, katerega smo prebežali v teku in ne v hoji. Tekel sem po vsaki ravnini le da je bila moč. Tokrat sem jo imel, takšno moč kot jo je imel Lajko za po hribu navzdol. Z Lajkotom nekaj časa borbava skupaj včasih skupaj včasih ne. Pri 100 km teku, je zelo težko borbati skupaj v dogovorjenemu tempu oziroma prilagajanju en drugemu. 
Na tranziciji iz nahrbtnika vzamem dve flaški. V eni hidracijski napitek v drugem spirulina in baobab ter v enem bidonu smuti, katerega je pripravila Mateja. Ko sem prepričan, da sem vzel vse kar rabim odrineva naprej. Kmalu se spomnim, da sem pozabil gele in šilt kapo. Se pravi čez 1 ali 2 uri ne bom imel energije. Prisiljen sem bil šparati in biti od tu naprej na minimumu! Upal, sem da mi bo uspelo! Bal sem se.  Skupaj z ostalimi tekači rinemo v hrib (tist hrib po katerem se dvakrat vračaš). Nikoli pa še danes ne vem imena teh vrhov, ker mi enostavno ni, da bi si jih zapomnil. Morda povsej verjetnosti, ker mi ni treba in niso življensko pomembni. Ko prideva na tretji vrh naju pričaka jutranji pozdrav sonca in najlepši razgledi #k24. Res lepo. Zatulim v hrib Pika in odrineva malo višje in naprej…
Naprej v smeri novih uspehov in vrhov. Zvedel sem, da moram priti do tam, kjer je nek oddajnik in zelo lepo viden vrh. Uff noro, do tam. Jep!
Kilometri so se pridno seštevali moje misli pa sem ter tja pri Mateji, kako ji gre. Na začetku sta se menili, da gresta s Karolino skupaj. Potem sta se odločili, da gresta vsaka zase. Povedal sem ji, da bo težko in da na njenem mestu se ne bi udeležil takšne preizkušnje, saj z premalo "brcanja v poden in v skale" lahko pripelje takšen podvig v propad. Odločila se je kot se je in sedaj naj borba. Vedel, sem da bo vsem, ki smo na štartu težko. Vendar je razlika, če borbaš 15 ur ali pa 30 ur po žgočem soncu. 
Mislim, da sem na Smrekovcu srečal kar nekaj poznanih s katerimi smo naredili objem ali dva in nekaj deset slik 😉 Zaradi prijaznih ljudi na okrepčevalnicah sem imel bidone hitro polne in polne žile rdeče sladke tekočine, katera se je skrivala v lubenici. Odlično!
Sledil je spust, ki je bil vsaj zame zelo naporen in uničujoč. Skale in skale… Shaklal sem superge in zlomil palico, katero sem pustil kar v hribu. Res nisem imel volje, da bi jo nesel v dolino. Tako, da se vsem opravičujem in obljubim, da bom drugič posikal tisti delček energije in prevekel tudi drugo palico v dolino. Približno od 40 ali 55 km sem borbal samo z eno palico. Druge ni bilo, kot to, da grem naprej. Kasneje v cilju sem izvedel, da je Mateja opazila mojo polomljeno palico. Če bi se zmenila, jo ne bi videla.  
Kmalu je začelo dobro greti in potreba po tekočini je bila večja, kot sem pričakoval hitro sem spraznil mehke flaške in z veseljem pričakoval kakšno okrepčevalnico. Ker je bila neka okrepčevalnica balzam za telo je bila prav ta neka okrepčevalnica balzam za motivacijo. Pri njej me je definitivno čakala najglasnejša podpora. Marko M. z družino me je prišel pozdravit in stisnit svoje sveže oprane mikice ob moje svinsko smrdljive cote. Vendar objem je bil pristen in tak ta prav, kar šteje veliko. NE! Šteje največ. Teh objemov upam, da je bilo na "tekmi" veliko oziroma, da so bili vsi. Vendar ne verjamem in vem, da je tako. 
Borbal sem dalje in zopet Megličevi na, se mi zdi zadnjem vzponu.  (beri predzadnjem ker zadnjega nikoli ne štejem). Podpora za nov napad in podpora, da mi bo šlo vse v redu. Vsekakor utrujen in izčrpan, a še vedno vesel, da sem vsake toliko časa odšel na malo potrebo in brez problema opravil svoje. Vesel, da je bil urin taprave barve. Vedel sem, da dobro delam.   Vedel sem da prvi ali tretji nikoli ne bom. Potem mi je vseeno ali sem 4 ali #štiristoti. Vročina nas je dobro tolkla. Dobesedno se zvlečem na hrib in z visokim pulzom začnem spust. Spusti so mi bili najtežji, saj se bom moral še dobro naučiti teka po hribu navzdol. Ko smo zavili na kakšen raven makadam sem prav "užival", ko pa so copati zagledali asfalti so, kar sami odbežali naprej.
Pri "zadnjem" spustu zagledam znani obraz in prepoznam Gregorja Štraklja! Vesel, objamem  in zopet ga osmradim z mikico in mojim prešvicanim telesom. Vseeno mi je! Energijo sem dobil in sedaj lahko grem še bolj vesel naprej! Hvala Gregor tebi in tvoji družini za objem! Lepo! 
Tudi tisti del ravnine pred zadnjim vzponom (v vasi Žerjav. Ha, super ime), sem pretekel v svojem slogu, v svojem stilu in s svojo energijo. Sam in vesel, ko končno lahko normalno bežim. Vesel, da napadam zadnji hrib. Čeprav sem iz vseh smeri slišal, da naj se čuvam zadnjega vzpona sem ga vzel z rezervo a resnostjo, saj sem vedel, da me čaka ena šmarka in "zmaga" je v žepu. Vendar ta šmarka je bila močna in po vsej verjetnosti ponoči tudi neverna saj je bila trasa speljana v peskokop. Ozko in strmo. Strmo, ko pes. Za trenutek sem se zaustavil sklonil in opazoval nor utrip, ki premika mikico in pas za utrip. Nič potrebno je bilo naprej brez nepotrebnega zaustavljanja v dolino. Parkrat sem probal Mateji vračat klic vendar zaradi mokrega ekrana se hudič ni moral odkleniti, tako de sem preklel cel svet in zasovražil švic.
Vendar, kot pravijo, da znoj prihrani kri sem bil neizmerno vesel, da sem tokrat na koncu prišparal kri in v cilj prišel zelo zadovoljen a hkrati zdelan. Kot ponavadi mi nakoncu malo popustijo zavore in se zjočem na ramenih… Tokrat, mi je Maja posodila rami, da sem ji zajokal z objemom in srečo v očeh. Vesel sem bil, da sem odbežal tako dobro. Vesel, da sem lahko Robertu rekel hvala prijatelj za objem in iskrene čestitke. Vaju z Lauro sem vedno neizmerno vesel. Upam, da vesta zakaj, če ne. Vama pove ob startu ali cilju na kakšni drugi ultri. 
A še vedno je na uri na koncu kazalo 99.1km. Ker je bilo uradno nekaj km tam tam sem čez nekaj minut naredil mini raztek do avta, da jih bo 100 km. Na razpisu je pisalo, da je to prava številka 100. Malo v hecu malo zares končam in uro zaustavim in v skrbeh razmišljam, da more biti Mateji hudo, ker je ostala gor ob močnem soncu. V cilju znane face in novi obrazi, lepo je bilo srečati vse. Reči besedo ali dve. Mato tebi hvala za mrzlo Coca-Colo in čestitke. Hvala! Kmalu pride v cilj Lajko, kateri dobi od Markota v šusu dve plastenki bojda najboljši hidracijski napitek. Bravo za borbo Lajko! 
Ko sej je dan počasi prevešal v noč kmalu izvem, da Mateja in Pero skupaj borbata. Že na samem začetku sem ji povedal, da ne sme odnehat zaradi (ne da semi, vroče je ….) borba traja do konca in do zadnjega! 
Sicer ne vem, koliko je bila ura me obvesti, da sta ostala brez ene lučke in da imata zadnji vzpon. Z Brigito in Urško odhitimo na edini ravni asfalt na tej progi in jima prinesemo lučke, baterije ter Invictus, da ju malo dvigne. 
Pero mi je dan po tekmu povedal odkkrito glede Invictusa.
Ja dobra zadeva moram priznat, čeprav sem bil kr zdelan mi je dal neki da sem zlezu na vrh… Ti da neki vec se mi zdi kot kak red bull in ostale zadeve… 

P.P.
Všeč mi je, če kaj deluje in tole je bil pravi preizkus. 
Čez približno dve uri in nekaj nam sporočita, da sta na asflatu ter da sta na poti v cilj! JAAAA! Vesel sem bil. Res! Zelo! Vsi! Nisem verjel, da bosta zmogla in vsa čast in poklon, da sta zborbala! Sploh tebi Mateja, z malo bežanja pa na takšne kilometre, kar malo noro. Lahko si videla, kaj pomeni če greš sam,  kaj prenese situacija če si z nekom in kaj se zgodi, če pomagaš vsem povprek. Upam in prepričan sem, da vama bo ta borba ostala za dolgo v spominu. Mora! 
Vsi skupaj smo bili veseli, da sta si spisala lepo zgodbo…
Na koncu sem bil tudi vesel, da se je Šiškar – Gorazd odločil, da bo pomagal Ireni pri 50 km podvigu. Vem, da je včasih kaj takšnega težje. Iz dveh razlogov. Sam bi rad naprej pobegnil in sam bi morda manj časa "trpel" na progi. Vendar nekomu pomagati, da osvoji nek cilj je včasih vredno več kot sama borba s svojimi željami. Seveda tudi poklon Brigiti, ki se je podala na prav takšno razdaljo. Tudi tebi Mojca poklon za kilometre. Lepo videti nasmejane obraze v cilju. Bravo. Karolina tebi čestitke za vztrajnost, borbo in cilj 100km! Pridna res! Senad  tebi sem veliko povedal in škoda, zgubljati črke! Fajt šteje, morda si ga izgubil, vendar vojne še obstajajo in čakajo na podvige! 
Čestitke prav vsem, ki ste borbali na #K24UltraTrail veliko vas je in vsakega omenjat bi bilo težko. Bravo! 
Da ne bom pozabil omenit organizacije. Bi morda še prej povedal, da sem zelo vesel znanih obrazov, kateri ste mi tisti dan polepšale malček naporen dan. Upam, da ste čutili ob stisku roke ali ob objemu prav to! Iskrenost. Malo je pravih prijateljev, to sem žal tudi tokrat spoznal. In vesel sem, da sem prišel, do takšnega spoznanja oziroma videnja. 
Sama organizacija iz mojega vidika:
Trasa odlično označena tako ponoči, kot podnevi,

hrane in pijače dovolj, morda kakšna okrepčevalnica več, saj je bilo res toplo,

ljudje pripravljeni pomagati,

navijači odlični in skozi vso traso raztreseni,

štartno/cilna ravnina super obarvana,

kar se tiče zadnjega hriba, pa je bil takšen kot ste ste si ga izmislili, naša naloga je pa bila, da ga premagamo.
Če se vrnem na začetek, kjer piše, da sem že borbal #k24 naj povem, da bom dal enak komentar, kot sem ga napisal v knjigo zapisov o opravljeni #k24. In čisto preprosto se je zapisalo…
Koroška hvala! 
Velikokrat sem si na poti rekel še malo in grem na dopust in velikokrat sem se spomnil Beara, ki pravi, da bo kmalu zajtrk. In res je bilo tako kmalu smo nedeljsko jutro pričeli z dobrim zajtrkom in sprehodom. 
#TimeToPlay
Medalja, ki k sreči ni bila lesena sem ob prihodu domov nabil na zid k tistimi medaljami, ki štejejo največ! Bilo je lepo a naporno!